Brisbane's trusted experts in ceramic and film based paint protection.
Premium ceramic and film paint protection at our Brisbane studio.
Located 14km from Brisbane CBD, Scrubs' industry leading detailing studio is a state of the art facility to ensure our paint protection is in a class of it own.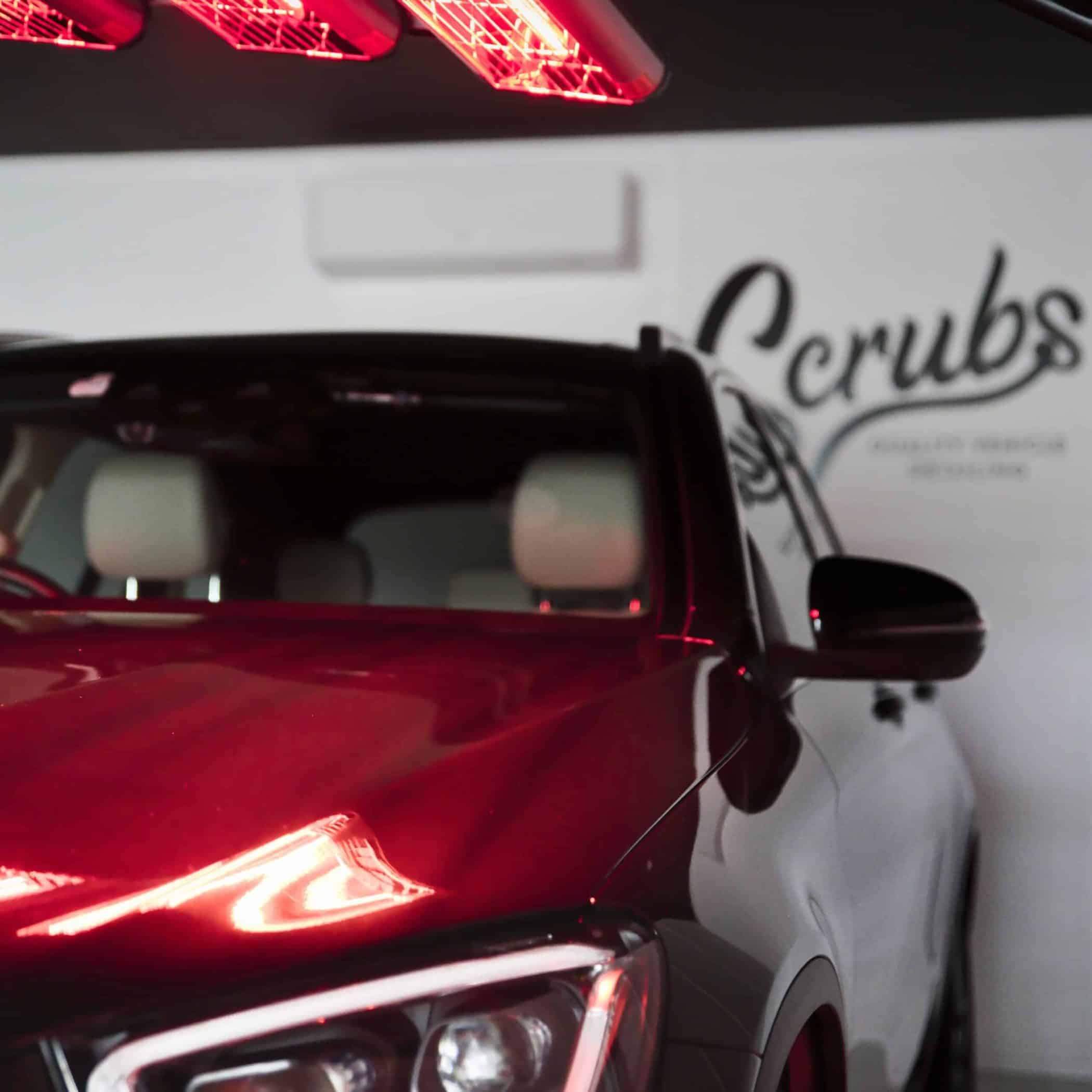 High gloss ceramic protection
Protect against bird dropping and more
Makes washing quicker + easier
Good chemical protection, cheaper than film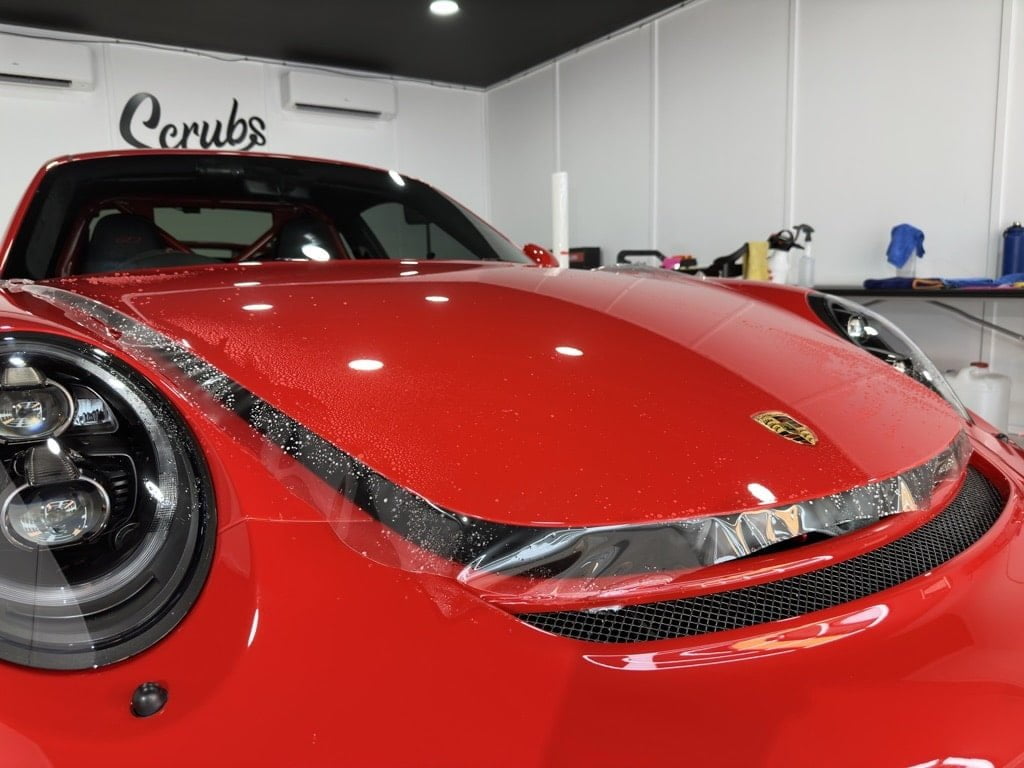 Paint Protection Film (PPF)
Best paint protection from physical damage
Protect from stone chips and scratches
Longer life expectancy 7-10 yrs 
High gloss with built-in ceramic top coating
Reviews from our Brisbane customers.
Excellent4.9★★★★★ Based on 473 reviews from review us onRaj Koothrapali ★★★★★ Nice gob.Thanxpeter tooma ★★★★★ Chris Hamer ★★★★★ Excellent work correcting the paint, applying ceramic coat, glass coating and window tint on my new ranger. I'm glad I came here as I don't think the dealership would have removed all the swirls prior to coating it and all for the same price.Chris Kefford ★★★★★ Mike Finger ★★★★★ Mark and the team did an amazing job on our new Koleos Iconic .. Top quality products, expertly applied .. Highly recommended ..Bency Iype ★★★★★ Very professional team..highly recommendedResponse from the ownerHi Bency, thanks for your continued support and great review. We are glad to upkeep our high quality standards over the multiple cars you bring in. Appreciate the great 5 star review and look forward to next time. Regards, Scrubs. Keith Brown ★★★★★ Friendly receptionThe car looks like it did when newGreat jobResponse from the ownerHi Keith, appreciate the great review and we are really happy how your Rav4 came up with our in-studio detail we completed. Thanks again for choosing Scrubs and look forward to next time. Regards, Scrubs Rebecca Serritiello ★★★★★ Mark and the team were fantastic! Communicated with me at every step of the way and my car looks incredible! Thanks guys!Response from the ownerHi Rebecca, Great to hear feedback about our communication and our team, Your Black 86 paint need a little bit extra love before our dual layer ceramic coating but boy did the paint pop beatifully. We are stoked that your thrilled with the result, it looked aweome! Thanks again for choosing Scrubs for your new car paint protection. Appreciate the review. Regards, Scrubs Sean Lumb ★★★★★ Thank you to John for going over and above for our Santa Fe. Customer service is clearly exceptionally important to Scrubs and we appreciate everything you did to get everything right for us. Thank you again. Paige Lumb.Response from the ownerHi Paige, Your more than welcome! I will always try our absolute best to deliver the best possible customer service we can. We always go above and beyond where we can to ensure that when you use our service that we stand by our customers. I appreicate your asistance in helping us get the issue sorted asap. Thanks your great review. Regards Scrus Jeffrey Wellburn ★★★★★ Worth every cent - friendly, efficient - Adam, their mobile detailer arrived exactly on time at my house and proceeded to spend the entire day meticulously cleaning every inch of my Landcruiser that hadn't seen much attention in years. It looks amazing and I wish I had done it more regularly. Will definitely be using them again...!Response from the ownerHi Jeffrey, thanks for your great feedback. Adam is a huge asset to our team and we are thrilled that your happy with our mobile detailing service. We look forward to seeing you again either mobile or in our studio. Regards, Scrubs Kirsten Downes ★★★★★ I am very happy with the communication, booking and services of Scrubs. They did a fantastic job on polishing up the car to look brand new inside and out. You can't even tell that I've had two kids under two inside or that we have taken the car camping. We intend on selling our Ford Ranger so we were very please to also recieve professional photography before pick up. I would highly recommend anyone to this business and you can be assured I will be returning again in the future. Thank you Srcubs!Response from the ownerHi Kirsten, appreciate the great feedback on your all day detail and sale photograhy package for your ford ranger. We take pride in restoring cars especially for sale. We are thrilled that your happy with our service and look forward to seeing your again. Not only do we specialise in preparing your car for sale we offer new car protection so we can handle the prep for the car being sold but offer better than delearship protection for the new car. Thanks again for your great review and look forward to next time. Regards, Scrubs Lea Medhurst ★★★★★ I got these guys to do a ceramic coat on our Polo, The service was excellent, communication was great. A simple , no drama experience to get the car a bit of protection..... and the results look great ... would recommend !!Response from the ownerHi Lea, appreciate the great feedback on your ceramic coating package for your Vw Polo in Dark Blue. The Cquartz ceramic protection made your car pop crazy and we are thrilled you're happy with the results. Thanks again for choosing Scrubs and look forward to seeing you next time. Regards, Scrubs dennycraneism Ism ★★★★★ Excellent customer service and quality work.Response from the ownerThanks for your Great review. Look forward to next time. Regards, Scrubs Amanda Lang ★★★★★ Great detailing job carried out, Jesse went above & beyond, giving us that new car feel again!Response from the ownerThanks Amanda, Apreciate the great feedback. Our stolen vehicle recovery detail goes above and beyond to restore that new car feeling. Thanks again for the review. Regards, Scrubs Sandy McCathie ★★★★★ Scrubs did a GREAT job on our Nissan Leaf, that just needed a little bit of TLC. Very thorough job and great service. Recommend.Response from the ownerHi Sandy, appeciate the great feedback on your dual stage cut and polish with paintless dent removal. We are car paint specialists and we are thrilled that your happy with our service. Regards, Scrubs Christopher Kay ★★★★★ great job on my ute for a 4x4 wash and detailResponse from the ownerHi Chris, glad that you appreciated our quality take on after beach cleaning. Our service truly aims to be a quality alternative the 4wd underbody washing. I'm glad that your happy with our thorough after beach underbody and detail service. Look forward to seeing you after the next trip. Regards. Scrubs Michal Klinkosz ★★★★★ What a great experience from Mark and the team. Everything was a breeze. The communication was amazing and we were updated every step of the way. We got the dual ceramic coating package on our car and the level of attention to detail the team spent on my pride and joy is nothing short of amazing. Thanks again Mark for all your helpResponse from the ownerHi Michal, Thanks for your great feedback on your dual layer ceramic coating package. Glad to hear about the communication throughout the process and stoked with how the car came out. Thanks again, and look forward to seeing you again. Regards, Scrubs Henrique Bittencourt da Silva ★★★★★ Really great experience with Scrubs, specially with Mark. Mark provided an unbelievable customer experience, clarifying some of my questions through messages at anytime. The result of cut and polish as well as headlights restoration was amazing. I definitely recommend Scrubs for your car care.Response from the ownerThanks Henrique, appreciate the great feedback. I loved seeing your reaction when you picked up your Jazz. Our team knocked it out of the park and I'm stoked your happy your Cut and Polish and headlight restoration. Thanks again for an awesome review and enjoy your fresh paintwork! Regards, Scrubs Steve Kennedy ★★★★★ Absolutely the best detail ever on the Ute. Friendly efficient service I will be booking the other car in soon.Response from the ownerThanks Steve, glad your happy with the Dual stage Cut and polish we did on your ute. Appreciate the great review and look forward to seeing you soon. Regards, Scrubs Chris Ciccotelli ★★★★★ Have had three cars detailed now and all of them came up fantastic. Good pricing & reasonable wait times - highly recommend.Response from the ownerHi Chris, thanks for the ongoing support. Stoked your happy with our detailing service and appreciate the great review. Regards, Scrubs Cameron Payne ★★★★★ Good, prompt, easy to deal with and reasonable pricingResponse from the ownerThanks Cameron, apprecite the great review, look forward to next time. Regards, Scrubs Huntley Bensink ★★★★★ Amazing experience, I needed to have overspray removed and Scrubs did it with ease! Great price and the car looks perfect. Can't recommend them enough. Thank you so much!Response from the ownerThanks Huntley, Your Stinger came up beautifuly. The overspray was more stuborn than first thought but boy did the car look ace at the end. Appreciate the trust you enstilled in our team to safely remove the paint overspray and correct the paint back to new. Regards, Scrubs. SmartGEN Powering the Powerless ★★★★★ They did a very good job of cleaning and making the chrome shine of an old car.Response from the ownerThanks SmartGEN, we loved having your old car in. Proper special to have a 1951 Wolseley in our studio. Glad your happy and please drop in anytime as fellow car enthusiasts we love appreciating unique and classic cars. Regards, Scrubs